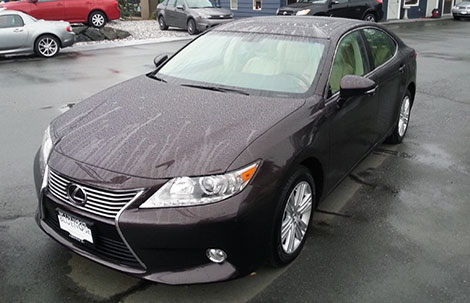 2013 Lexus ES 350
Bluenose Motor Company has a 2013 Lexus ES 350 Luxury Sedan among the latest offerings.
With just 12,000 km, this almost new vehicle offers the luxurious performance, reliability and unique feel you can expect from Lexus for just $34,997.
The characteristic Lexus handling is apparent, with precise yet easy power steering. Braking is smooth and well calibrated, with acceleration that leaves little to be desired.
In fact, you may be surprised at how well this particular vehicle balances that zippy feel most sport drivers love with the luxurious cruising at all speeds. One will experience all the comfort that could be hoped for in a luxury sedan or business vehicle with great handling characteristics and a good performance envelope.
The ES 350 remains the most popular sedan class from Lexus, with a combination of generous legroom and state of the art driving conveniences that remove much of the common complaints associated with road travel. The exceptionally quiet ride is complemented by a responsive suspension that is stiff enough to stabilize the vehicle while cornering, but soft enough to smooth the ride on all roads.
The six speed automatic transmission is powered by a quiet but torque ready V6 with a satisfying purr, while responsive and precise acceleration is at your fingertips thanks to a 6 speed, semi-automatic transmission.
The ES 350 outer styling is modernistic and edgy with sharp lines, lending impressions of power and class. The sunroof, leather seating and spacious interior combine well with electronic features that include traction control and navigation features for a safe and enjoyable ride.
This nearly brand new luxury sedan with very low kilometers is suited to a range of uses for those who want a classy, reliable and comfortable car with great performance. Consider coming for a test drive this week.
---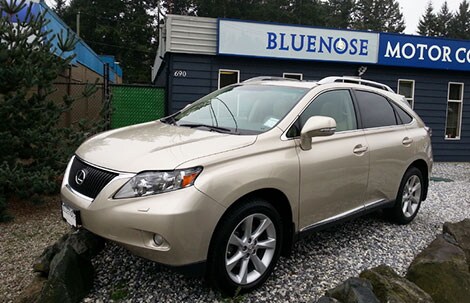 2012 Lexus RX 350
Bluenose Motors is proud to offer a classy 2012 Lexus RX 350 specially priced at just $45,888. This luxury SUV offers comfort, beautifully engineered lines and superior performance.
With only 48,000 km and one previous owner, our almost new Lexus is in mint condition with the balance of factory warranty.
The reliable, safe and roomy 2012 RX 350 comes with exterior revisions while retaining its sleek shape as one of the most aerodynamically shaped SUV designs on the market!
On a test drive, this 270 horsepower 6 cylinder powered vehicle displays the energetic acceleration and effortless power steering you can expect from Lexus. Handling is crisp and precise with a quiet ride. You will appreciate the highly ergonomic controls with a six speed semi-automatic transmission to enable easy shifting.
Great for surface streets and highway trips, this 2012 Lexus RX 350 is equally at home on backcountry roads. Road bumps and variations disappear with the smooth Lexus suspension and higher ride, while a backup camera feature offers peace of mind in tight spots.
The champagne colored leather seating beautifully matches the subtle beige exterior, while power adjusters and full navigation electronics contribute to a comfortable ride with all the amenities. The large sunroof, quality Lexus sound system and eco mode features are added selling points.
Come for a test drive this week and experience the combination of luxury, practicality, styling and performance this Lexus RX 350 SUV offers!
---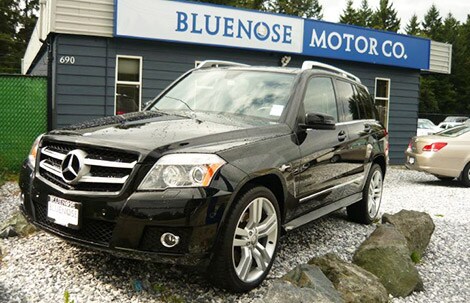 2010 Mercedes-Benz GLK350
Our specially priced 2010 Mercedes-Benz GLK350 is a high performance SUV combining powerful acceleration and crisp lines with comfort and practicality. At home on the freeway, surface streets and backcountry routes, this sport luxury vehicle is an excellent choice for business or pleasure.
Upon test driving this sharply defined Mercedes SUV, you will notice the crisp handling and powerful acceleration from the 3.5 L V6 engine that provides 268 hp to an AWD, semi-automatic drivetrain. Visibility is excellent, with a well-designed interior layout and a double sunroof that provides outstanding atmosphere.
The slightly lower build and sharp lines recall a sport wagon design with a lower center of gravity, stable, smooth control responses and increased aerodynamics at higher speeds. The ride is very quiet, smooth and comfortable. The black leather interior, 19 inch alloy wheels and attractive Mercedes Logo grill add to the crisp, businesslike look and encourage high driver expectations as you approach the vehicle.
Steering is precise, smooth and comfortable, while braking and acceleration are well calibrated. The 6 speed, semi-automatic transmission provides that satisfying extra control and smoothness expected from Mercedes-Benz as you maneuver around corners or accelerate down straightaways. A well-built chassis and responsive suspension provides satisfying handling on the highway and surface streets, while backroad capability is maintained if you desire to travel further afield in this vehicle.
With interior space adding to the executive styling and exciting sport performance, this SUV would also make a great family vehicle or business transporter.
With just 65,000 km, this sport luxury vehicle is specially priced at just $28,983! Come for a test drive this week and experience the style and performance of this beautiful and versatile luxury sport utility vehicle from Mercedes Benz.